Protect The Vulnerable Cup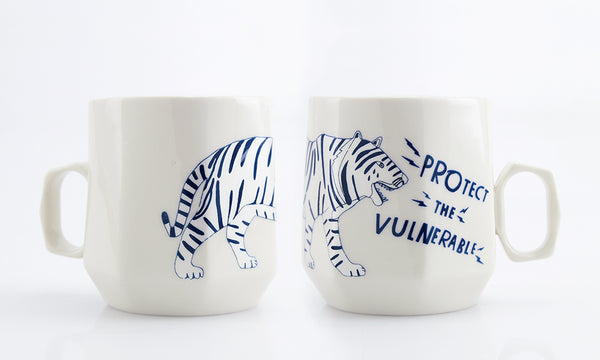 Protect The Vulnerable Cup
Protect The Vulnerable Cup
Image: Lisa Congdon
Cup Design: Marc Digeros
Porcelain 3 7/8" x 4 3/8" x 3 3/8" with decal, 15 fl oz
For the longevity of your decal, please avoid the dishwasher.
Please note that cups are made to order. Your cup will ship within 3-4 weeks. 
Pictured is the front and back of one cup.
Lisa Congdon
It is important in this political climate of exclusion to pay the most attention to people who belong to the most vulnerable, disadvantaged and marginalized groups. This means continuing to work to guarantee non-discriminatory treatment for all and fighting for proactive measures to enable those suffering from structural and institutional discrimination. Protect the vulnerable!
Marc Digeros
I have had a fascination with seven sided forms for a few years however this is the first time I have designed a form from start to finish via digital processes. This form was designed in Rhino 3D and printed with a Makerbot 3D printer. The form was then extensively sanded and smoothed using fillers and primers. I like that the seven sides create an asymmetrical, odd sided shape with strong facets that will allow for the application of illustrations. I hope that my cup allows for a diverse viewpoint for this election and that it highlights the many aspects critical to the candidates we will elect.